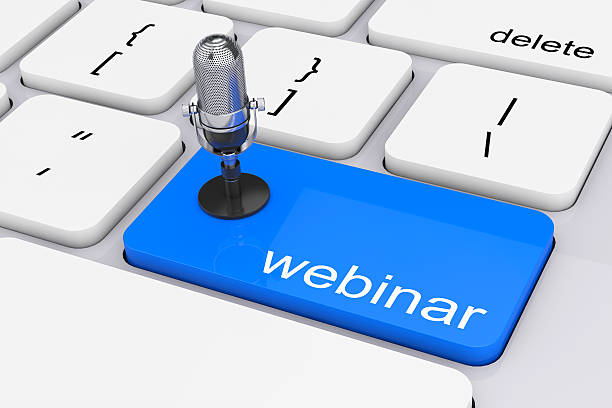 Audio-recording equipment is required to produce polished webinars with high-quality audio. Thus, a decent microphone can either make or break your entire webinar.
Choosing the best microphone for webinars can also affect your bank balance. We have curated a list to save you hours of sifting through Amazon reviews and scouring the internet for the best webinar microphones.
This article will cover the types of microphones, the best models and brands on the market, and when to use them.
We will also go through the pros of having a webinar microphone and the different types available in the market.
Why Do You Need a Microphone for a Webinar?
One of the most important aspects of a webinar is its audio quality. It is highly recommended that you obtain a good microphone to record a high-quality webinar.
You must present everything to your audience effectively to establish credibility and authority. It will be challenging to sell to your audience if you do not appear and sound trustworthy.
If you run a webinar with poor audio quality, attendees will likely leave early and miss your offer. Remember, you only get one chance to make an excellent first impression, so make it count!
2 Types of Webinar Microphones
There are various microphones, particularly in how they capture sound waves around you. To help you choose a microphone for your webinar, here is a brief background of the two prominent families of microphones.
Dynamic Microphones
A dynamic microphone is a piece of equipment that uses electromagnetism to convert sound into an electrical signal. It means that in response to sound pressure, a thin diaphragm moves.
Because of the way they work, these microphones are the most forgiving. They do not pick up as much background noise as condenser microphones.
It is beneficial, but the disadvantage is that you generally have a poorer sound in terms of the various frequencies you can capture.
The sound isn't as full. They are the most commonly used microphones because they are typically less expensive than condenser microphones.
Condenser Microphones
People working in music studios typically use a condenser microphone because they can record different speeds of sound waves much better.
This type of microphone employs a condenser capsule, made of a thin membrane, usually gold-sputtered mylar, located near a solid metal plate.
These microphones are more expensive, and you must use them in a secure environment because they more easily capture background noises.
You should also be aware that condenser microphones typically have an XLR output, which is the industry standard for professional audio.
Don't worry; reliable XLR to USB adapters range in price from $5 to $20, making it easier to record to your computer.
2 Microphone Cable Types
Another way to classify microphones is by cable type: XLR and USB mics.
XLR
An XLR cable is the industry standard, which means that most professional audio recording gear is designed for XLR microphones. This mic gives you more options and control over the sound.
With XLRs, you must connect it to an audio interface, which converts the analog signal to something digital that you can play on your Mac or PC. If you don't need phantom power or ultimate sound control, an XLR to USB adapter is an option.
USB
The benefit of using a USB microphone is that you can plug it directly into your computer or laptop, eliminating the need for additional audio equipment.
While connecting to your computer's USB port is easy, you don't have as much control over the sound quality.
Because most online courses and webinars require you to plug into a computer at some point, most of our options are USB microphones.

10 Best Webinar Microphones
We have listed a few recommendations for the best microphones for webinars.
Audio-Technica ATR2100
The Audio-Technica ATR2100 is one of the best webinar and podcast microphones available. It's straightforward, simple to use, and sounds fantastic.
This handheld mic has two outputs (USB and XLR), a high-quality analog-to-digital converter, and a headphone output with level control for monitoring. Because it is handheld, you may want to purchase a stand for it, but it is one of the most versatile microphones on the market.
Don't worry if you don't have a professional soundproof room for recording webinars. The ATR2100 has a unidirectional pattern, which means it does not pick up on background "hum."
Blue Microphones Yeti USB Mic
The Blue Yeti is an excellent alternative if you want a little more advanced features than the Audio-Technica. It has a three-capsule array feature that produces clear, powerful, broadcast-quality sound for:
webinars

YouTube

game streaming

podcasting

conference calls

other applications
The Yeti mic includes studio controls for headphone volume, instant mute, and microphone gain.
The audio controls' flexibility allows you to present and record high-quality audio, making it an excellent choice for creators who want to commercialize their music or connect excellent audio quality straight into their computer.
Heil Sound PR-40
The most powerful microphone of the dynamic family is the Heil Sound PR-40. Heil's phasing plug technology is used in the PR 40, as well as a very large, low mass diaphragm and custom magnet metals housed in a specially designed microphone body.
Heil Sound microphones are well-known for their overall durability and dependability. The PR-40 is explicitly designed for users who record a lot of webinars, podcasts, or other audio recordings. It's one of the most expensive options, but if you have the extra bucks, this mic is worth considering to use on your webinars.
Samson Meteor
The Samson meteor mic is a condenser microphone that is reasonably priced. This mic is one of the most durable pieces of equipment on our list, and it comes with foldable legs.
This microphone has a cardioid pattern and a 25mm diaphragm condenser. It also has a dual-stage grill to reduce popping and location wind noise. It is iPad, PC, and MAC compatible, making it an excellent choice for computer recording.
It has outstanding sound quality and would be ideal for voice recording—definitely one of the best USB microphones for webinars and podcasting.
Shure SM7B Cardioid Microphone
Consider the Shure SM7B cardioid dynamic microphone for a more upscale option. It's a high-quality pro-quality microphone that will last and sound great for years.
It has a flat, wide-range frequency response ideal for immaculate and natural music and speech reproduction. The internal "air suspension" shock isolation in Shure's SM7B eliminates mechanical noise transmission (like from your computer).
This mic also features a highly effective pop filter, eliminating the need for additional protection. It is helpful if you speak too close to the microphone or do YouTube or narration vocals.
The Shure SM7B also includes a yoke mounting system for easy mounting and dismounting for precise control of the microphone position.
AKG P120 Condenser Mic
The AKG P120 is a high-performance wired XLR vocal condenser microphone ideal for general voice recording and presentation.
This microphone is suitable for live and pre-recorded webinars, tutorials, and online course lessons.
This one can provide high-quality audio if you're looking for a mic setup ideal for various general online courses and webinar purposes.
Blue Snowball iCE Mic
The Blue Snowball iCE condenser microphone is another plug-and-play USB microphone. It has a built-in adjustable stand that makes it simple to move and set up on any desk.
The Blue Snowball iCE microphone is an excellent choice if you want to keep costs as low as possible while still getting a lot of great features. It provides clear audio quality for live online teaching platforms such as:
Podcasters and webinar hosts commonly use this model, so it's also a good option for pre-recording webinars and online course content.
Zoom DZM-1 Dynamic Microphone
Zoom DZM-1 has an internal shock mount, which allows it to isolate sound from bumps and unwanted noise.
The stand mount makes it super simple to attach a mic stand, though you'll need to buy one separately if you don't already have one. Since this mic comes with an internal shock mount, you do not need to purchase an external shock mount.
Because of its large-diaphragm dynamic design, this mic captures a smooth, broadcast-quality sound.
Audio-Technica AT2035PK Vocal Microphone Pack
If your budget is more in the mid-range, another good choice is the Audio-Technica AT2035PK, which is ideal for webinars but also great for podcasting. It has a large diaphragm that produces smooth, natural sound with little noise.
It also includes an adjustable studio boom arm with 360-degree rotation and matching headphones. The ATH-M20x professional headphones have a single-sided cable exit and are designed to fit around your ears for excellent sound isolation.
The Audio Technica AT2035PK is the best microphone set for you if you need an all-in-one package.
Rode SmartLaV+ Lavalier Condenser Microphone
Rode's SmartLav+ lavalier microphone is ideal for online teachers and fitness instructors who move around a lot while instructing.
The microphone can be clipped to the lapel and plugged directly into a portable recording device or mobile device.
If you move around or use props, or if you present while directly facing the camera, this is a good option that works well with an external audio recorder.
Best Microphones for Webinars Price Guide
We have listed the prices of the aforementioned best microphones for webinars below.
| | |
| --- | --- |
| Microphone | Price |
| Heil Sound PR-40 | USD349.00 |
| Audio-Technica ATR2100 | USD79.00 |
| Blue Yeti USB Mic | USD130.00 |
| Samson Meteor | USD49.99 |
| Shure SM7B Cardioid Dynamic Microphone | USD399.99 |
| AKG P120 Condenser Microphone | USD85.00 |
| Blue Snowball ICE Mic | USD50.00 |
| Zoom DZM-1 dynamic microphone | USD49.99 |
| Audio-Technica AT2035PK Vocal Microphone Pack | USD398.99 |
| Rode SmartLaV+ Lavalier Condenser Microphone | USD50.00 |
What Other Equipment Do You Need for a Webinar?
We have also listed other helpful gears and accessories that you can use for running your webinars.
Boom Arm
A boom arm is a great way to improve the sound by removing the microphone from the desk or table.
It eliminates the need to remain in the same position for the duration of a webinar or podcast interview. If your microphone is propped up on a built-in or traditional stand, it is much more difficult to adjust during your event.
Boom arms also help reduce the impact of shock-related noise on your microphone, resulting in better sound quality for your audience. They also aid in the reduction of vibrations and the elimination of shock-related noise in your recording. Furthermore, they free up space.
Pop Filter
A noise-canceling filter for your microphone is known as a pop filter, pop shield, or pop screen. 
In a recording studio, pop filters are typically used to help reduce or eliminate popping sounds caused by the mechanical impact of fast-moving air on the microphone during recorded speech and singing.
Some of the microphones on this list include pop filters, while the others don't and you have to purchase a separate pop filter.
Headphone
A good set of headphones is also necessary for producing an excellent webinar. While the ones that come with your phone are adequate, it is sometimes preferable to invest in a set that you can use for podcasting and other features.
One piece of advice: avoid using Bluetooth headphones. Instead, use a pair of headphones that are directly connected to your computer or microphone.
Camera
It would be best if you also considered upgrading your camera for better visual quality. While almost every new device includes a built-in camera, you can also buy a separate, external webcam. A professional webcam can provide higher resolution, different positioning, and a better experience for attendees.
Lighting
Lighting a webinar does not have to be complicated. All you need to do is add a few different light sources. The number of sources required is determined by the size of the area to be illuminated.
When using light sources, create a balance of light levels from above, behind, and on the sides. It would help if you also used the same color lighting throughout.
Considering this, using ring lights when hosting a webinar is frequently a good idea. They contribute to the creation of balanced amounts of light while avoiding shadows.
Bottom Line
Hopefully, you now have a solid understanding of how to choose a webinar microphone for your business. Running webinars doesn't require much equipment, but the one thing you absolutely must have is a good microphone.
Because webinars don't always show your face, having the best sound possible is critical. Using microphones will help you quickly establish your audience's trust.
If you demonstrate confidence and expertise to your audience, your business will grow faster as you generate more leads and clients.
If you already have your webinars gear ready, it's time to start hosting webinars! Generate more leads and sales for your business by hosting webinars on autopilot. Get your Stealth Seminar free trial and start webinar hosting!