Hosting webinars is great for any business. They can help you generate leads and enhance brand value, among many other things.
While there are inherent benefits to running live webinars, automated webinars continue to take center stage.
They're pre-recorded, so you don't have to worry about hosting issues or technical glitches.
They're also cheaper, for a single live webinar can set you back a whopping $3,500—and even up to $5,000!
Best of all, you can even use it to broadcast evergreen content. As the name suggests, this type of webinar is timeless, so you can run it for a long time as you see fit. 
INDEX
If it's your first time creating automated webinars, then you need to pick the best evergreen webinar software available.
To know if you've hit the jackpot with your chosen automated webinar platform, the following are key features you should look for:
1. Automated Webinar Functionality
The best automated webinar tool should help you run unlimited sessions without breaking a sweat.
Recording and Uploading Features
You'd want a platform with a built-in recording system. Likewise, it should be flexible enough for you to upload unlimited HD webinars, whether they're on your local drive or hosted online. 
More importantly, it should be able to host various video types, including but not limited to:
MPEG

MP4

MOV (Quicktime)

DV

AVI
Remember: your attendees' internet speeds are not the same. Some may be able to stream HD videos, while others may have a hard time doing so. 
That's why you should look for a program with smart bandwidth detection as well. This enables you to provide the best webinar file according to their internet connection. 
Schedule Webinar Feature
One of the best things about on-demand webinars is that your audience can watch them according to their schedule and preferences. Unlike live webinars, your audience can consume them whenever, wherever.
As such, your webinar platform should come with a straightforward scheduling feature. It should give you the freedom to determine your start date and time for registration and viewing. 
Best Date and Time for Automated Webinars
Scheduling your webinar at a specific date and time can help you attract more attendees. 
According to a report, it's best to run an evergreen webinar during the middle of the week. 
Thursdays can give you a 25% attendance rate, followed by 24% for Wednesdays and 22% for Tuesdays.
Mondays are not favorable since your viewers are probably overwhelmed with weekly work.
Fridays are not advisable, for they may be focused on beating their deadlines. 
As for the time, setting your automated or live webinar at 11 am is best. It attracts 16.1% of registrants, followed by 2 pm, which has a registration rate of 14.6%. 
If you have viewers from multiple time zones, it's best to set your presentation at 12 pm PST or 3 pm EST. 
Additionally, your platform should enable you to repeat your scheduling options as needed. 
Just-in-Time Scheduling
One feature you should look into is just-in-time scheduling—available on the StealthSeminar automated webinar software. 
This allows you to run your presentation at these high-converting schedules:
Top of the hour (offered once today)

11 am tomorrow (presented once tomorrow)

7 pm the day after tomorrow (offered once the day after tomorrow)
According to a report, it can help you generate a whopping 50% show-up rate. 
You'd want a tool that comes with an embeddable evergreen webinar link. After all, you'll want to post the URL on your website or social media page for exposure.
2. Additional Functionality for Both Live and Hybrid Webinars
Wouldn't it be great if you have a software that runs both live and automated webinars—and hybrid ones, too?
When it comes to live events, you'd want webinar platforms that easily integrate with YouTube Live. By doing so, you can:
Save Money.

YouTube Live is cost-effective. 
Establish your brand.

YouTube is a great place to attract more customers.
Monetize your videos.

Why not make more money in the process?
Hybrid webinar functionality is also a worthwhile consideration. With this, you can get the best of both worlds. 
You can go live during some instances. You can also automate some parts, which allows you to do a custom opening or run a Q&A.
3. Webinar Registration Page Feature
Just like a real-life seminar, you need to set up registration forms for your webinar sessions.
They do more than just give you a headcount, though. 
A good registration page helps you make an excellent first impression. It can capture leads by asking for their email, the likes of which you can include in your email marketing software. Email promotion is responsible for 73% of signups, after all. 
Registration pages also help leave breadcrumbs, so you get more people signing up for your next on-demand webinar. 
In other words, it can help you make an effective sales funnel! 
That said, an excellent evergreen webinar software should offer you customizable registration page templates. You don't need to worry about the designs and whatnots. You'd want to do things quickly, just like typing in the details and publishing it once ready. 
It's also good to have a webinar software that allows you to upload third-party templates. You'd want your ClickFunnel or LeadPage form to be easily incorporated into your current setup. 
Good webinar platforms should also offer an exit pop-up, which you should be able to add as you deem fit. 
Paid Webinars 
If you want to charge your clients for your automated webinars, you can use the registration page to do so. 
You can embed a link redirecting them to your PayPal account or shopping cart.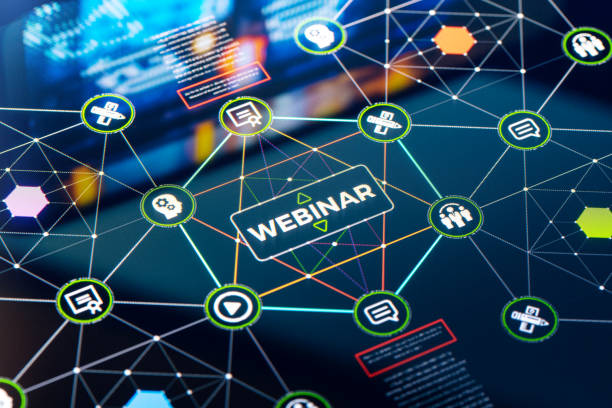 4. Additional Page Customization 
The best automated webinar software should allow you to customize other essential pages. Again, they're necessary for building your sales funnel.
For best results, look for a platform that offers the following: 
Webinar Landing Page.

It's always 'less is more' for this. Avoiding unnecessary text and many pictures while leaving a lot of white space is the way to go. 
Thank You Page.

You'd want to show your gratitude to your attendees. You can create your own content and redirect your registrations to a specific link depending on the platform. 
Countdown Page.

Your registrants may be engrossed with too much work, and they may end up skipping your webinar unintentionally. With this page, you can alert your audience five minutes before the start time. It also promotes the feeling of urgency, and people are known to respond well to FOMO! 
Watch Page.

This allows you to modify the content before or during the automated webinar.
Webinar Complete Page.

You can set a page or redirect your attendees after the presentation ends. 
Legal Content.

Located at the footer portion, it's an area for you to show the terms of service, privacy policy, copyrights, etc. 
Email Content.

This can help you send reminders for the webinar replay.
5. Call-to-Action Setup
A CTA is an essential element for on-demand webinars. It tells your viewers the next step to take, whether it's signing up for this or downloading that. 
Naturally, you should be on the prowl for webinar software platforms that help you make the most out of it.
For example, they should allow you to customize the CTA name, type, and location. Depending on your layout, you may want to put your CTA beneath the video, on the webinar video, on the top side, or bottom right side.
Specifying a particular CTA start time or duration will help as well. 
Apart from the factors stated above, following these tips should give you a more compelling CTA:
Create a straightforward CTA.

Use command words such as "Join Now" or "Learn More." 

Avoid placing a wall of text. 

Use language appropriate and specific to your target audience. 

Use words such as 'you' or 'yours.'

Don't oversell your webinar, but be sure to highlight its benefits and selling points. 

Keep the copy professional and polished. 

Capitalize on scarcity by saying you can only cater to a limited number of attendees. 
6. Interactive Features
Even if you're running evergreen webinars, you'd want to make your audience feel like they're watching a live webinar. 
As such, you should be looking at webinar tools that come with the following features:
Q&A Submissions 
If you want to lead your client deeper into the evergreen webinar funnel, then you need to address their queries right away. 
For one, 82% of viewers are likely to participate in your Q&A portion.
Adding this feature can help you:
Be prepared with starter questions

Improve viewer focus

Share more about your brand

Establish thought leadership

Time your whole webinar
Who knows? Your immediate answer may be the nudge they need to purchase your product or service. 
Live Chat or Chat Replay
Like Q&A submissions, enabling a private chat will help you answer queries right away. 
Adding a live chat feature can help in the following:
Build rapport 

Improve acquisition or boarding

Reduce repetition 

Enhance overall experience
On the other hand, pre-loading your chat should give you enough time to answer everything else. 
As for chat replay, you can add messages with a set name, time mark, and other specifications. 
Interactive Polls
Running polls is another way to keep your audience engaged. It also helps you learn more about your current audience.
Needless to say, having a poll is beneficial for your webinar. According to the report mentioned above, it can engage as much as 24% of your audience. 
This spike in attendance is often attributed to the following factors:
Interactivity.

Your audience can take a more active role during the on-demand webinar.
Simulation.

It can make your viewers pay more attention. 
Alignment.

You can learn more about your attendees' knowledge, pain points, and goals, among other things. 
Interactive Whiteboard
Say you want to discuss something on your live webinars. Having an interactive whiteboard will come in handy. 
As the name suggests, it's a screen where you can write stuff or draw illustrations. 
Audience Reporting
Do you want your webinar attendees to have their names published? Or do you want to simulate a certain attendance number, names included? 
The best webinar software should allow you to do both. 
7. Marketing Tools, Integrations, and Plug-ins
Maybe you're using other marketing features for your campaigns. It would be a shame if you can't integrate them with your current automated webinar software.
That said, you should be looking at webinar technology that works with common plug-ins, such as:
Active Campaign

AWeber

ConvertKit

Drip

GetResponse

Hubspot

Keap/Infusionsoft

Mailchimp

Ontraport
8. Split-Testing
Split-testing is all about comparing different versions of your webinar, landing page, registration page, to name a few. 
It's a must-do before publishing your automated sessions, for you'd want to know which version attracts more clients. 
When it comes to webinar platforms, pick a tool that allows you to switch templates easily. That way, you'd know which evergreen webinar works better.
9. Robust Analytics Dashboard
If you want your webinar strategy to prevail, you need strong analytics tools. 
For best results, you should be on the lookout for the following features: 
Built-in Statistics
An excellent automated webinar service details the following:
Conversion rate.

This is the percentage of attendees who take the recommended action. 

Registration opt-in.

This is the number of people who participated in the presentation. 

Show-up rate.

This is the actual number of attendees who viewed your webinar. 

Engagement rate.

This is the active involvement of the audience with the presentation. 

Drop rate.

This is the number of viewers that haven't reached the intended webinar goal.
Tracking
You'd also want to track the progress of your automated webinars via:
Clicky

ClickTale

Facebook

Google Tag Manager

Google Analytics

Hotjar

KISSMetrics
Sales Reporting
Creating webinars costs money. As such, you'd want an analytics dashboard that tracks:
How much money you've earned

Value per registration page visit

Value per registrant

Value per attendee

Total value per automated webinar 
10. Stellar Customer Service
Most evergreen webinar software platforms are easy to use, but they're not without hiccups. 
That's why you should look for a tool that offers free training and excellent customer service. You'd want the issues addressed right away to avoid frustrations. Remember, time is gold not just for you but also for your audience. 
In other words, you'd want a company you can contact several ways—be it by phone or email. Better yet, you'd want a website that offers a live chat bubble or a private screen-sharing appointment. 
Take the case of StealthSeminar. The company offers customer service 362 days a year. With the exception of Thanksgiving, Christmas, and New Year, they can cater to your needs almost all year round. 
11. Multiple Language Support 
If you're planning on streaming your upcoming webinar to an international audience, then you need a tool that offers multiple language support. 
At StealthSeminar, you can set any of the following languages:
Dutch

Finnish

French

German

Italian 

Norwegian

Polish

Portuguese

Romanian

Russian 

Spanish
With this feature, language is no longer a barrier. This can help you reach out to a bigger audience, leading to higher conversion rates along the way. 
12. Free Trials
There are many webinar platforms out there, so you may want to give each one a try before you go.
Essentially, you'd want a program you can take out on a spin, ideally for free. This should help you gauge whether you like its webinar automation or marketing features, analytics dashboard, and other features. 
You'd also want a free trial that doesn't come with many limitations. StealthSeminar, for example, allows you to broadcast to 150 attendees for free!
Word to the wise: Don't be fooled by tools asking for your credit card information. Before you know it, they're charging you for a trial that's supposedly free! 
13. Reasonable Cost
Given all the notable features above, you'd think you need to spend a lot of money on your webinar platform.
That's not necessarily the case.
There's StealthSeminar, which is an affordable yet high-performing webinar tool. 
For as low as $69.95, you'd get everything you need to: 
Run evergreen webinars (and live webinars, too)

Save money (price includes setup, file hosting, etc.)

Maximize conversions

Customize events

Measure statistics 

Increase conversions
You can unlock other features, such as Facebook or SMS reminders,if you decide to get the Professional Plan. 
This price sure beats other webinar platforms that often come in with a lock-in yearly cost. Their offers are not nearly as good, which means you'll be losing money instead of gaining some.
Final Thoughts
When it comes to choosing webinar platforms, it pays to be picky. You'd want a comprehensive tool that offers everything you need at an affordable price.
Remember: 89% of marketers believe that webinars are superior to other lead-generating channels. 
That said, you should consider signing up for StealthSeminar,  dubbed the best automated webinar software in the market. It comes with all the important features you'll need to stream high-converting automated webinars.