A webinar is an online presentation conducted by a webinar moderator who leads a webinar.
Webinars are extraordinarily easy to market your business. A good moderator and a well-prepared webinar moderator script are essential elements of a successful webinar. 
You need a moderator to ensure that the webinar and the webinar script template are smooth and uneventful throughout the presentation. The moderator's job is to keep the webinar content flowing smoothly and keep the participants engaged. 
A webinar moderator must be well-organized and be able to keep track of presenting time. The moderators usually provide a brief introduction at the beginning of the webinar and then introduce the speaker.
A good webinar script and a good presenter will keep participants on track by asking spot questions and keeping the discussion flowing throughout the webinar. 
As a moderator, you should introduce the presenter and topic along with an overview. You should monitor the chat box during the webinar and answer related questions. 
At the end of the webinar, thank the guest presenter and attendees. Also, do not forget to provide the contact information of the organizers, so they are easily reachable. 
This blog looks at what makes a good webinar moderator script which you can use to make your virtual meetings more productive.
In this post, you'll learn:
How to write webinar scripts for a webinar presentation 

The do's and don'ts of creating a webinar host script

Sample webinar script template
So without further ado, let's get started.
How To Write a Webinar Script For A Webinar Presentation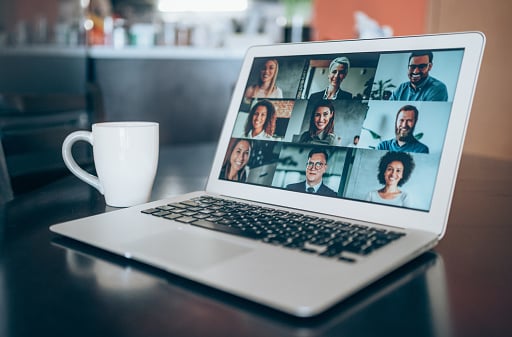 What's On The Webinar Agenda
There's no specific answer to this question, as the most ideal way to begin a webinar moderator script will shift contingent upon the particular objectives and targets of the one presenting the online course. 
However, a few general tips can help ensure your webinar is effective with a rock-solid introduction script. 
Make sure you introduce yourself and the topic at the beginning of the webinar script to set the stage for the discussion. 

Next, it's essential to keep the moderator script focused and on-topic.

Audience engagement is key, sometimes, it tends to be challenging, particularly while making a mind-boggling point or managing a live crowd. But hang in there, keep presenting good content. 

Finally, leave time for questions and discussion at the end of the webinar. It allows attendees to get clarification on anything they didn't understand and share their thoughts and experiences.
1. Set the Scene
When webinar presenters speak, they want the audience to imagine a world in which their product or service is being used.
It could be a world where people are using their products to improve their lives, or their service is trending and making a difference. 
2. Structure Your Talk
When a presenter is preparing to talk, it is essential to think about the main points the moderator wants to convey to the audience. A proper flow will help structure your talk clearly and concisely.
The moderator would most likely want to highlight the essential points, so you should stress more on these points more when preparing your talk. Additionally, the moderator may want to leave time for questions from the audience, so be sure to leave some space in your talk for this.
By including the main points that the moderator wanted to make, you can ensure that your talk is well-organized and informative.
3. Strong Call to Action
A solid call to action (CTA) is essential to any practical webinar. A CTA is an inquiry that urges your crowd to make a particular move, like pursuing your pamphlet, downloading a white paper, or enrolling for a free preliminary.
Your CTA should be clear, concise, and pertinent to your crowd. It should also be placed prominently on your slides and repeated throughout the webinar.
A compelling CTA will help you achieve your desired outcomes for the webinar, such as increasing brand awareness, generating leads, or promoting a product or service.
4. Introduce Your Guest
If you're hosting a webinar, you'll want to ensure you introduce your guest speaker or presenter in a way that sets the tone for them to stay in the limelight. Here are a few tips: 
First, give a brief overview of the guest and what they'll speak about. It will assist with situating the crowd and give them a feeling of what's in store.

Next, share why you're excited to have the guest presenter on the webinar. What makes your guest speakers an expert on the chosen topic? And can the audience benefit from that experience? 

Finally, give the audience a few tips on how they can make the most of the guest's presentation. For instance, encourage your audience to ask questions and take notes.
 By following these tips, you can ensure that your webinar introduction sets your guest up for success.
5. Transitions
There are a few ways that a moderator can transition from point to point while moderating a discussion. One way is to ask the following individual in the conversation to share their contemplations on the previous point.
Another way is to summarize the previous point and then ask the next person to share their thoughts on what should come next. 
Additionally, the moderator can ask a question to the group as a whole that builds on the previous point. 
Whichever way the moderator chooses to transition, they must do so clearly and concisely.
6. Closing
The moderator's closing comments play a vital role. They sum up the key points of the discussion and stress their importance. 
The closing remarks make the audience yearn to learn so that they can participate in future discussions. It is imperative because it shows that the moderator is committed to successful delivery and wants everyone to be involved.
The closing content is an opportunity for you to have a lasting impression on the audience. You want to thank them for attending and give them a call to action that will motivate them to make a move. 
Thank the audience and give them a quick overview of what they learned. Give a call to action that is specific and achievable. You can also encourage the audience to take action by offering a special incentive.
End the webinar by thanking your panelists and speakers for their contributions. Leave your audience with a final thought or quote that will inspire them.
Sample Webinar Script Template
➢    Introduction – Hello, everyone, and welcome to today's webinar. I am [insert name], and today I will be your moderator.
Our topic today is [insert topic], and we'll be hearing from two expert speakers on this subject. First, we'll hear from [insert speaker one name], who will give us an overview of the topic.
Then, at that point, we'll hear from [insert speaker two name], who will share some contextual analyses and best practices. 
(Once you are done with the introduction, start the discussion)
I'll monitor the chat window and call on people to ask their questions aloud. So let's get started. [insert speaker one name], please go ahead.
➢    Presentation – When it comes to a webinar presentation or webinar topic, the presenter should use clear and concise content in your presentation. You want to ensure that your audience understands the main points of your topic.
It's important to be engaging. Keep your audience's attention by making your presentation interactive and exciting.
Guarantee to allow for questions and conversation. It will permit your crowd to draw in with the material and capitalize on the online course.
➢    Question Answer Session – A question and answer session is a great way to engage your audience and get feedback from them during a webinar. 
Ensure the host has a clear objective for the session, and make sure the intent is clear as to what should be achieved by having a question-and-answer session.
Prepare your questions in advance. It will help you to stay on track and keep the session focused.
Encourage your audience to ask questions. You can ask them to submit their questions in the chat box or raise their hand if they have a question.
Prepare yourself to answer any query that will be asked. It means having a good understanding of the webinar agenda.
Keep your answers clear and concise. Be careful not to ramble on, as this will lose your audience's attention. Thank your audience for their questions and encourage them to continue engaging throughout the presentation. 
Do's and Don'ts of Creating a Webinar Host Script
One must keep a few key things in mind when moderating a webinar to ensure a successful event. It is a key factor in having well-written content.
It will ensure that the flow of the webinar is smooth and that all of the essential points are covered. Additionally, being an engaging and dynamic speaker or presenter is vital.
It will keep the audience's attention and make the webinar more appealing, enjoyable, and  responsive to the audience.
It means taking feedback through questions throughout the webinar to ensure that the audience gets the most out of the event.
Do's
Don'ts

1) Consider the overall structure of the webinar. The flow of information should keep the audience engaged throughout the presentation.

1) Don't make the script too long. The average attention span of a listener is relatively short, so you want to keep the script concise and to the point.

2) Always remain alert in responding to the audience.

2) Try not to make the content too detailed. You want to offer an advantage to your group and gain trust, not give off the impression of being pushy.

3) Use your tone and body language to engage the audience.

3) Don't forget to proofread! Double-check your grammar or spelling before sending it.

4) Keep in mind the delivery of the webinar – use slides and video.

 

4) Avoid confusing acronyms so your message isn't too wordy.

5) Ensure that the webinar script is concise and clear.

5) Make sure not to use a number system when you can use simple language and preserve the overall point to retain your audience's attention.
It is essential to have a well-written script to deliver an engaging and informative webinar. Webinars are typically between 45 minutes to 1 hour in length, so your script should be tight and to the point.
Ask questions, use humor, keep your audience engaged throughout the webinar, and be fully prepared before the webinar so that everything runs smoothly.
Remember that you represent your company or organization, so maintain a professional attitude and demeanor throughout the webinar.
Conclusion
A webinar moderator script is key to a successful webinar. It should be brief, efficient, and simple to follow.
It should also be flexible enough to allow for questions and discussion. Following these simple tips will ensure that your webinar is a success and that the presenter would be able to hook the audience.