More and more people choose to host webinars than frequently hosting physical events. The reason is that it can give the host as well as the audience the ultimate convenience. At the same time, online seminars also provide companies the opportunity to capture their target market without seeing them face to face.
Due to the advancement of technology, hosting webinars have become a lot easier. Thanks to on-demand webinars and webinar automation, you can now use prerecorded webinars to host your virtual events. All you have to work on is creating a good presentation, and scheduling and promoting it.
However, not all webinar creation software will give you the audio and video quality you need to capture your audience's interests. Aside from that, some prerecorded webinar software is costly. Fortunately, you're just on the right page.
In this article, we'll elaborate on where you can create your next prerecorded webinar for free.
INDEX
What are Prerecorded Webinars
Is it Better than Live Webinars
Where to Create Prerecorded Webinars for Free
Tips for Hosting Prerecorded Webinar Presentations
In Conclusion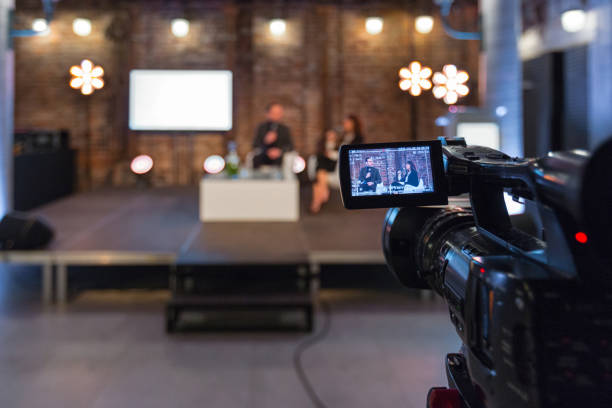 What are Prerecorded Webinars
Prerecorded webinars, also called recorded webinars and simulated live webinars, are basically prerecorded presentations. They can either be a video recording, slides, or a combination of the two. These webinars are recorded prior to releasing the actual footage or slides. They can be created using webinar recording software or slide creator and be scheduled when you're ready.
Is it Better than Live Webinars?
When you are confident enough to host live webinars, and you think it is suitable for your business, you can surely go for it. After all, live webinars can give more urgency than the prerecorded ones. However, it's also not the best type if you are not confident to speak in front of your audience in real-time. Plus, if you can't ensure a stable connection and peaceful environment during your live presentation.
If you use prerecorded webinars, you don't need to stress about getting nervous speaking in front of a live audience. You can do it whenever and wherever you want, in front of people you're comfortable being with or by yourself. It's best if you have stage freight or just prefer that setup.
Aside from that, if you face any technical problems or make mistakes, you can simply do a retake. Then you only have to edit the presentation until you make it flawless.
Last but not least, it will give you the opportunity to get more attendees. Not everyone who is interested in your brand or agenda will have the opportunity to attend your live. One of the biggest reasons why is due to inconvenient timing. When you use on-demand webinars, your target market can view your content whenever they're free.
Where to Create Prerecorded Webinars for Free
Hosting prerecorded webinars surely come with plenty of advantages. However, before you can maximize them, you need to create a good presentation first. It will be challenging to do, especially with the costs and if you don't know which tools are the best. More so, if you don't have the features you need to create your desired content. So, we've gathered a list of the top recording software that you can use for free.
OBS Studio is a free, open-source video recording software that is compatible with Windows and Mac. This tool is mainly used for live streaming because of its high-performance audio and video capturing. It's also great to use to record your presentations before scheduling them.
When you try this software, you can enjoy various valuable features, such as in terms of customization, webcam use, screen capture, and more. In addition to that, OBS Studio also comes with an audio mixer and has no limitations.
MonoSnap is another video recording tool compatible with both Mac and Windows. This software will allow you to take a screenshot while recording your screen. Besides that, it also has the option of turning on the microphone, webcam, and audio from the system before starting the recording.
If you use MonoSnap, you can select the 60fps to have an ultra-smooth playback. The integration makes it easy to upload the video to cloud drives, like Google Drive, Dropbox, CloudApp, Disk, and more.
EaseUS RecExperts for Mac
EaseUS RecExperts is one of Mac's most highly-recommended video recording software due to its screen sharing capabilities. It can record a portion of your screen, half screen, or the whole screen. You can also simultaneously capture audio with this tool and install external devices like a webcam and microphone. It will allow you to capture high video quality without watermark and conveniently schedule the recording.
CamStudio is considered one of the best free video recording tools that are easy to navigate. It has a unique feature for video annotation and is 100% free. Unfortunately, since it is a product of Microsoft, this tool is only available for Windows users. It also has free tutorials to help you in case you find any difficulty.
Movavi is a video-editing software where you can easily record screens in high quality. It has a free version for both Mac and Windows that's so easy to use for creating good photos, videos, and even music. You can conveniently use it to record and edit your webinars before scheduling them.
Tips for Hosting Prerecorded Webinar Presentations
Prerecorded webinar hosting might give you the chance to get quality leads, brand exposure, and conversion constantly. But it will not be that effective if you don't do them successfully. To help you ensure that your prerecorded presentations run smoothly, below are some useful tips.
For any webinar to be successful, hosts need to take time and plan ahead. If you rush your event, it might lead to a huge waste of time, effort, and money. So plan early, at least six weeks or more, before the event, especially if you will make a detailed presentation. Create a good webinar script to ensure that you add that live vibe even though your presentation is prerecorded.
If you repurpose your webinars, the topic you will pick must always be relevant. So, choose a good topic that isn't a trend. Trends will just pass by, and people will lose interest in them after some time. We recommend making it educational to provide something useful for your target market.
Use a Good Webinar Recording and Editing Software
Your presentation will reflect your brand's image. For this reason, it's essential to make your webinars professional and high-quality. You can do that by using a good webinar recording and editing software that will let you produce HD presentations. At the same time, the software will be better if it has all the necessary features you need to complete your planned content.
When you create your webinar, we suggest that you use some visuals with bullets as well to ensure that your audience can follow. Plus, add graphic elements to make slides more interesting.
Create a Good Call-to-Action
Call-too-action or CTA is a particular phrase that encourages people to finally take action. For instance, if you want them to sign up, you can add "Sign-Up Now" or "Buy Now" if you want them to purchase something. It's a good strategy to meet your marketing goals.
A compelling call-to-action is the one that will capture the attention of your attendees and encourage them to participate and convert. So, make sure that you create a good one that is visually attractive and interesting. It should be bold and readable enough for your visitors. But still, the design shouldn't be overdone. Plus, make sure that once people click your CTA, it will lead them to an appealing landing page as well.
Decide the Best Webinar Timeline
If you host on-demand webinars that can be viewed at any convenient time, that will be good. But if you will automate your webinars and make them available at specific times, make sure to decide on the best webinar timeline. It will depend on who your target customers are, where they are located, and when they are usually active and free.
Promote Your Upcoming Events
No matter how great your prerecorded webinar is, it won't matter if people don't know about it. So, before your actual scheduled date, make sure that you have already promoted your upcoming event. Take advantage of all the social networking accounts you have, like Facebook, Instagram, Youtube, and more. In addition, you can consider using paid advertising as well so more people can see it.
Choose the Best Webinar Software
There are many free webinar software out there that will let you host webinars. However, not all those free webinar platforms have the features you need. There's the right software that will support your target number of audience, webinar type, format, as well as webinar automation. For this reason, you need to choose the best free webinar platform or at least the most affordable one that will help you reach your webinar goals.
Not everyone who is interested in the product or service you are offering will convert right away. Some of them need more time to decide and be persuaded. Therefore, always follow up right after your attendees leave the webinar event or within 24 hours after they watch it. Plus, a week after they have watched your presentation. If you find it inconvenient to follow up on your attendees consistently, you can also automate the process by using webinar software with an auto follow-up feature.
In Conclusion
With more and more companies out there taking advantage of webinars, you should keep up with the marketing trend. Knowing how to use this for your company will help you stand out among your competitors and generate quality leads. Aside from that, webinars will also allow you to introduce your products and services to other people and earn a good profit.
One of the ways to take advantage of webinars is by creating the prerecorded one. It's best for those who don't prefer speaking live, have target customers with different timezones, and can't consistently host webinar events. The prerecorded presentation you will create can be edited until you achieve your content objective and make it error-free.
If you like to start and create your prerecorded content, you can choose from the five free webinar recording software we shared today. All of them have incredible features that you can use without paying for them. So, if you are new to hosting webinars and want to save funds, it's best to try them out.
Aside from that, keep in mind that prerecorded webinars will not help you meet your goals unless you make them engaging enough. Therefore, consider all the tips we gave you as well. They might require extra effort, but they can significantly make your presentations a lot more effective.